The restaurant
Fine Ambience & Exclusive Atmosphere
Fine Ambience
An ammolite is an extremely rare gemstone; in order for it to emerge and develop its distinctive character, many special factors must first come together in one place at the same time and merge together.
The sensory experience in our restaurant is derived from this image, an aura emanating from the perfect combination of ambience and atmosphere, offer and demand. Here, modern design combines with style and class to form an elegant backdrop for an experienced culture of enjoyment.
A unique interior creates a place for special occasions and guests who appreciate the encounters and the dialogue of an exceptional setting.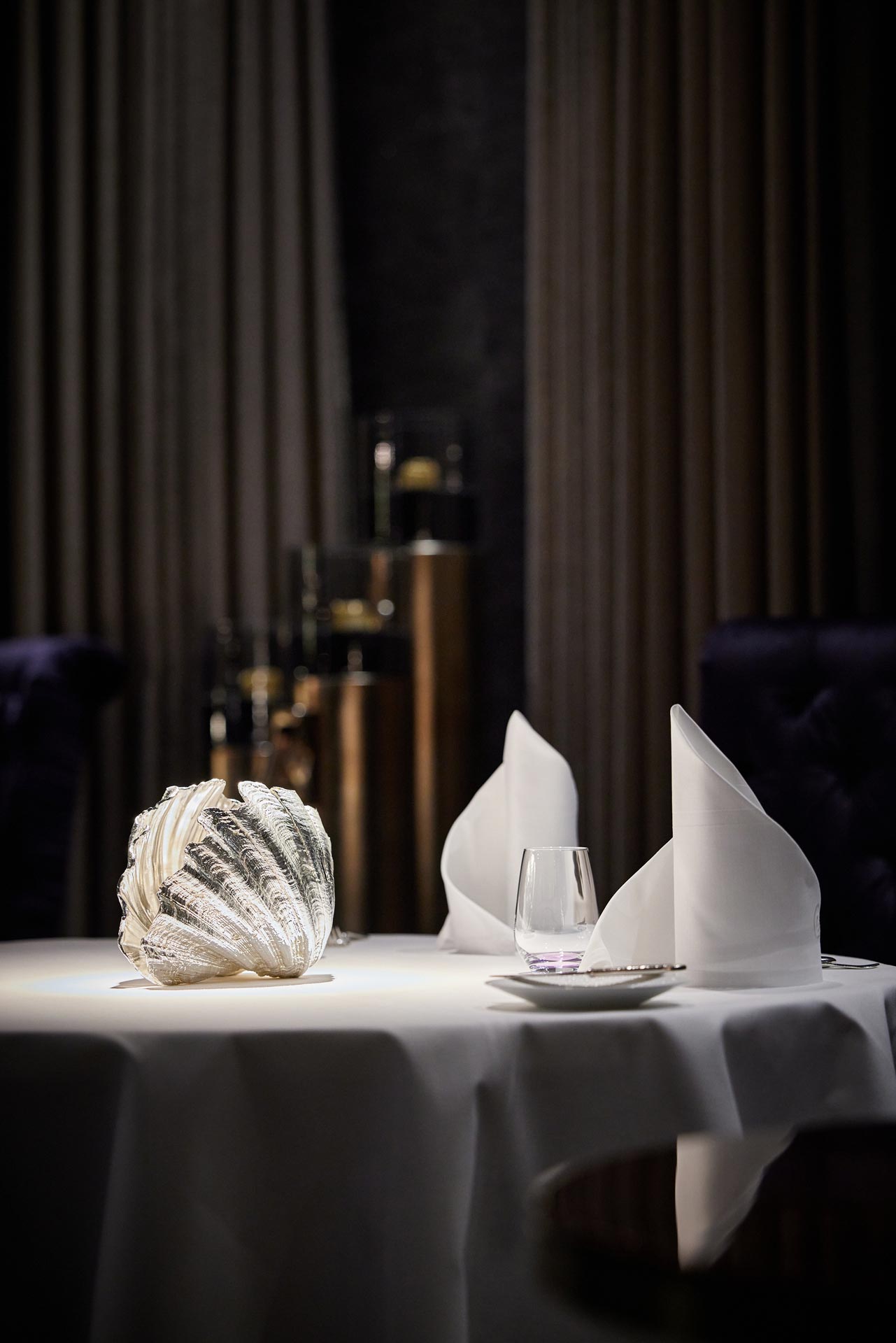 Exclusive Atmosphere
Enjoy our ambience and the excellent cuisine by Peter Hagen-Wiest – awarded two Michelin stars and 18 Gault-Millau points and voted Restaurant of the Year in 2020 by the magazine 'Feinschmecker'.
Relaxation, personality, spontaneity – the 'Ammolite' is free from elitist attitudes, you master the craft, maintain the conventions and style – and do not put yourself in the foreground.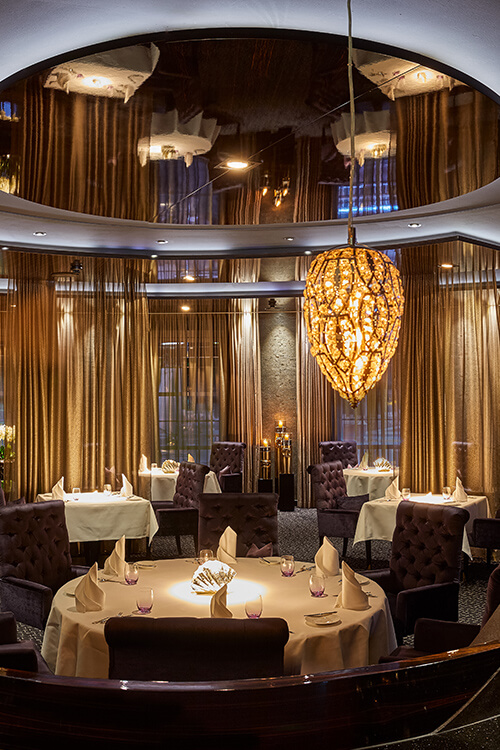 Unique Atmosphere
The internationally sought-after hotel designer Claudio Carbone has created an exclusive atmosphere that impresses with its transparency and openness.
Distinctive Design
Inside the lighthouse, every little detail enchants the space of the Ammolite – The Lighthouse Restaurant.
Calm and Serenity
The restaurant is a place for special moments and guests who appreciate exquisite food in an exceptional setting.
Harmony and Luxury Combined
Powerful aubergine and dark brown contrasts with elegant gray and silver: the combination of materials and materials sets subtle accents that liven up the entire ambience with a touch of luxury.
Feel-Good Atmosphere
Elegant interiors, subdued light and permeable organza drapes create a unique atmosphere with a sense of generosity.
Attention at Eye-Level
The effortless interaction between the service team creates the necessary atmosphere. One understands the wink, the charming Aperçu.
There is no dress code, it should remain informal and natural. Everyone is welcome in the Ammolite, in the clothes you personally consider appropriate.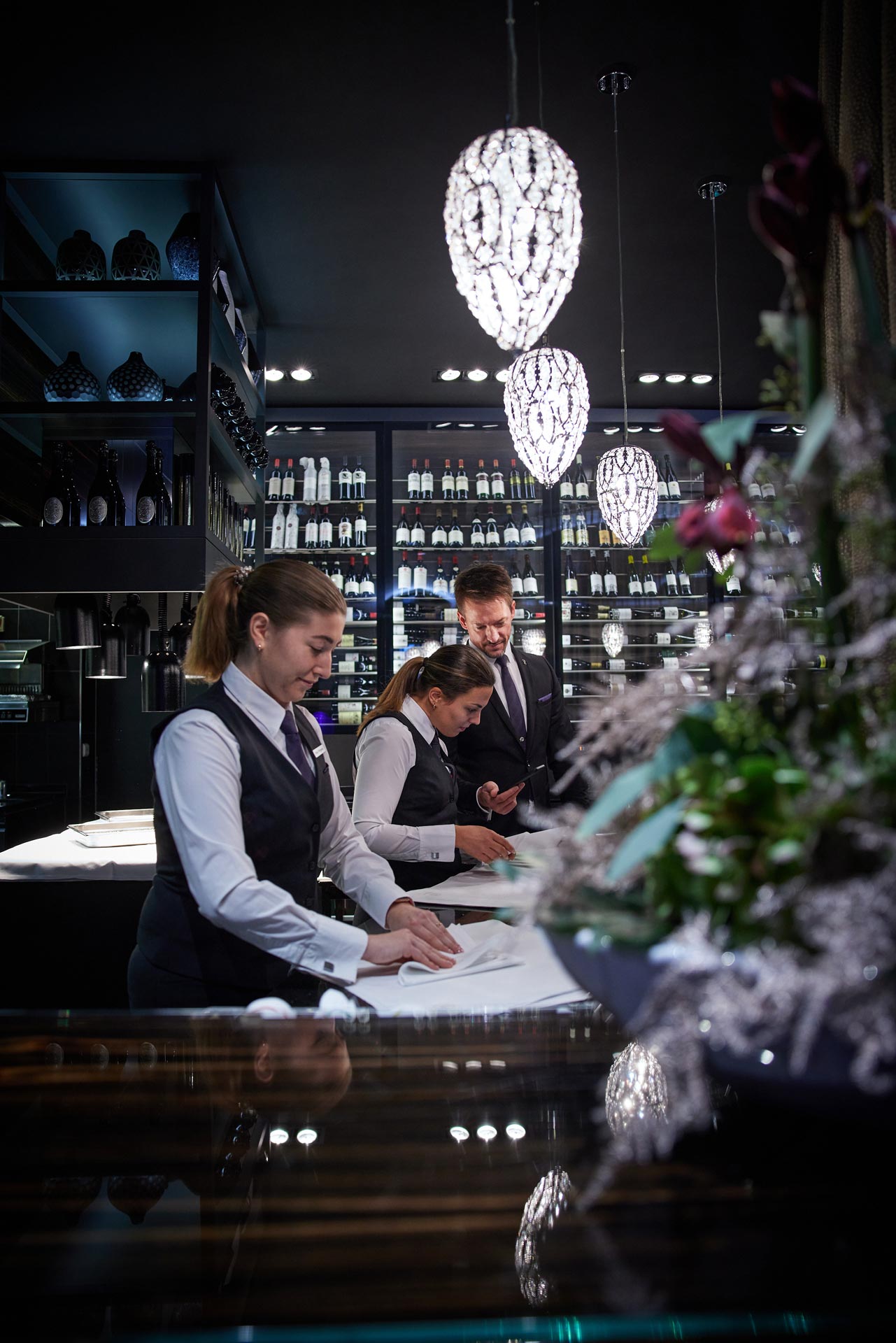 Unique Piece of Art
Next to the entrance, the spectacular artwork 'Ammolite 2017' is awaiting you, a cube made of glass with beautiful LED lights. This unique piece of art has been custom-made by American artist Mary Ann Toots Zynsky for the fine dining restaurant.
More than 250 kilometres of glass filament shimmering in different colour combinations, matching the general theme of the Ammolite restaurant, are worked into this cube. The result is full of delicacy, glance, depth, and emotion.